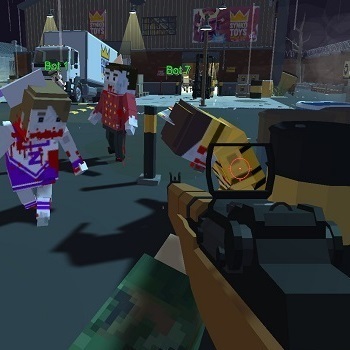 About game «Gungame 24 Pixel»
Attempt to stay alive as you play the dangerous game of life. Zombie attackers will surround you and try to murder you. Your objective is to kill everyone who stands in your way and remain uninjured. You have access to every game option, including competitive matches with friends, team battles, shootouts (where you can create a real massacre), and fights to the death. Every level will be more difficult but also more intriguing than the one before it, so try to choose yourself and make it through all forty of them.
In this brand-new exciting game Gungame 24 Pixel, you would be plunged into a universe where a struggle involving humanity and the zombie is happening along with hundreds of other players from around the globe. You are qualified to take part. Following the selection of your avatar and weaponry, you will arrive at a certain location. You must move cautiously while keeping an eye out for danger. Use the tower's walls and items to advance covertly. Aim your gun in the enemy's direction and begin firing as soon as you see him.