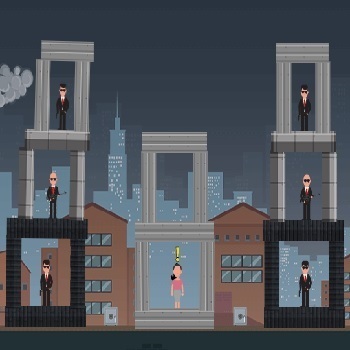 About game «Kill The Spy»
Agent 007 doesn't have to feel bad about killing any foreign agents who endanger the sovereignty of his country because he has a license to kill them. When you obtain the desired score from the computer game Kill The Spy, you can eliminate nasty people. The challenge is to deal with enemy spies who have positioned themselves at various spots. If the shots can't reach them, use different tactics. Find the buildings' weak points and shoot at them. You have only a finite number of opportunities, so think before you fire. The shot should induce a total collapse, filling all the spies under the rubble and protecting the populace. It is your responsibility to engage reasoning so that you can use bullets to remove the proper bricks.
You will lose if you do not even try to complete the task with the fewest number of steps. Aiming your spying gun at locations, shoot bullets at them to shatter buildings. Find the weak points of the buildings and place spies there to utterly demolish them. But be careful not to hurt innocent people. Collect valuables to advance.