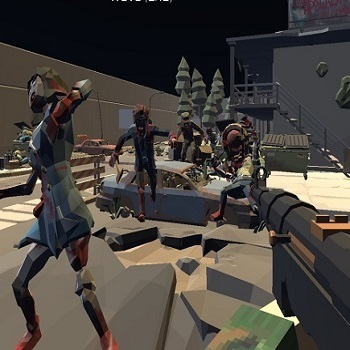 About game «Zombie Virus Fps»
You can control an odd shooter who engages in zombie combat in the 3D third-person shooter Zombie Virus Fps. Even so, he will spare no effort to protect his city from the terrible animals who have taken over it and are devouring everything in their path.
You will set out to fight a sizable number of zombies in the 3D shooting game Zombie Virus Fps. help purge your city of a significant amount of the living dead. Once your character and you are in the city's streets, you must aim at the creatures and begin shooting them. Keep a certain space between you and the zombies to stop them from injuring you. On each level, a certain number of corpses must be eliminated. Each kill you get will count toward your total. They can be used to upgrade your character or purchase new weapons. Feel free to take on monsters and kill them by shooting them in the head! It's important to check around sometimes when shooting creatures to ensure that none of your adversaries are coming at you from behind. If you find yourself encircled, the game will finish for you and the zombies will take over this lovely environment forever.