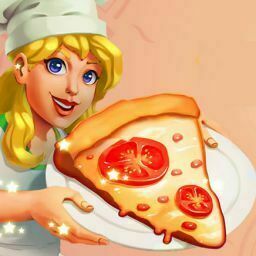 About game «Pizza Rush»
You have a once-in-a-lifetime opportunity today: bake pizza with the greatest pizza maker. Not only will you make pizza with a skilled chef, but you will also choose the ingredients yourself. Making pizza is pretty simple to do, but if you don't get the hang of the controls, it will take you a while to prepare this delectable food. Do you want to participate in the pizza-making prank? Here, you get the chance to test your reaction time as well as familiarize yourself with the items used as pizza toppings.
When you click "Play," the pizza base will show up on the screen. Filling it with the ingredients shown on the board at the bottom of the screen is your duty. The fact that the pizza rotates and contains a stencil of the product as a target makes the mission more challenging. You must aim carefully and hit the target when using the mouse, otherwise you will lose. The ingredient that follows is shown in the screen's lower right corner. On the way, do not forget to collect coins, maneuver among cars and notice your customers on time. Also pick up food boxes to replenish supplies.