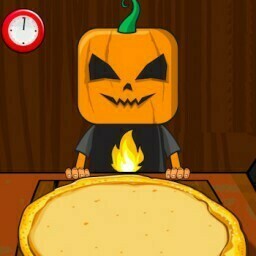 About game «Halloween Pizzeria»
It's time to celebrate the spooky season with delectable pizza at Halloween Pizzeria! These kids are ravenous after trick-or-treating and need to eat before they can indulge in their loot of sweets. You should be prepared for a challenge because there are so many distinct recipes and ingredients!
People are swarming the streets in hunger on Halloween! Serve the best pizza in town when you open your own restaurant. To unlock additional ingredients and recipes, you must earn as much money as you can in this game. To produce delicious pizza in this game, you don't need to be a pizza master. All you require is a mouse. To begin the game, click the play button on the main menu. The buyer will let you know what he wants to order when he arrives. By clicking the pizza button in the upper right corner, you can view the recipes if you don't know how to create a pizza. When the ingredients are ready, choose the appropriate ones from the list on the right side of the screen, and then press the oven button to cook them.