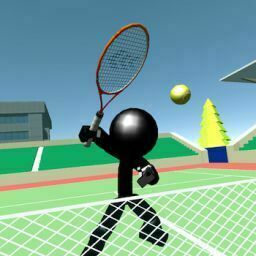 About game «Stickman Tennis 3D»
Stickman spends his free time away from his primary profession engaging in outdoor pursuits. He can go on mountain trips, kayak down rivers, navigate rapids, or even try parachuting. In general, he never gets bored. But he also enjoys playing tennis, so he's inviting all sports enthusiasts to join him in Stickman Tennis 3D, a fun three-dimensional simulator where everyone can show off their skills and have a wonderful time.
It wouldn't hurt to practice if you wanted to win the championship, so it's advisable to select the first mode, training mode. In this mode, you will learn how to move around the player's field, become familiar with the nuances of control, and make clothing decisions. After gaining at least some experience, you can switch to the regular game mode. In this mode, you don't need to familiarize yourself with the standings or worry about the athlete's future because the last mode allows you to advance all the way from the eighth round of the semifinals to the virtual world championship.