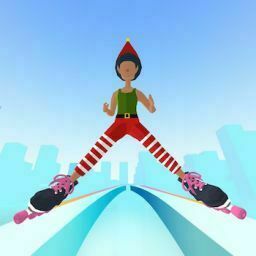 About game «Sky Roller»
In addition to roller skating, Sky Roller is an arcade game built on 3D animation. To ride on the platforms in the sky, you must control a girl wearing roller skates. By steering the girl's legs to the left or right, you must avoid all obstacles. Avoid the different obstacles that will be in your path while attempting to stay on the platform. The main character's legs will occasionally be in close proximity to one another, making it necessary to almost sit on the splits at times. You will receive a reward for successfully finishing the level, and you can use that gift to purchase a new character. To succeed, try to avoid every impediment. You won't get bored playing the game because there are several stages.
You will have the chance to briefly feel what it's like to be an athlete who soars over barriers in this captivating and exciting simulation game! Prepare yourself for this thrilling adventure. Concentrate on the track, and try to complete the levels quickly and confidently, this will give you the opportunity to pass an additional bonus level.