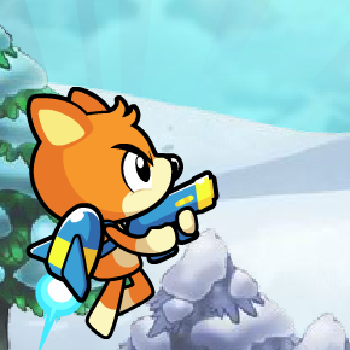 About game «Bear Hero Adventure»
In the Bear Hero Adventure, you must prove that you are a real hero. The bear figure will fly from across the sky while the music is playing, and as various birds and other creatures approach him, you can shoot your pistol at them. Credits can only be obtained by eliminating enemies. Opponents lack the ability to shoot, yet they can still shorten your life by touching you. Avoid it. Ensure that the characters stay out of your path as you raise and lower the arrows. In the game name, you have the possibility to collect flying coins; they just hang in the sky and await for you to discover them. So because speed increases with each step, you must react quickly. Show speed and focus on every detail to beat rivals and cross the final race unscathed. The tether is at the base of the screen; pay attention to it.
This cute bear can protect himself even though he seems powerless. especially if you help him in Bear Hero Adventure, an online game. With the use of a special wingsuit, you can raise and lower your hero. There are many strange avian species that need to be exterminated. Similarly, gather gold coins.