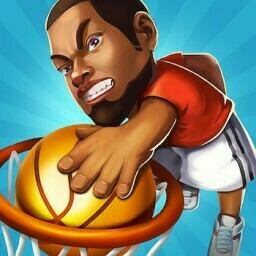 About game «Basketball.iO»
Can you beat the other millions of players in Basketball.iO, a game of sports where fast thinking, experience, and speed are crucial? In general, head to the basketball court and begin the competition for the title of best player.
Like in the genuine version of the sport, there is only one way to win: by putting the most balls in the basket in the allocated time. To do this, you must first complete a brief exercise. The first phase of training include becoming familiar with a basketball player's gait and moving him around the court. Move on to throws once you have a firm grasp of the concept of moving around the field. Oh yeah, the basketball player himself will handle this task for you; you don't need to toss anything. After completing the first two practice rounds, move on to the training game. Here, an opponent will appear and will make every effort to steal the ball from you. You, on the other hand, must stop him from doing so and quickly flee the assault. It didn't work out, so now you have to try to catch up to your opponent and take the ball away from him.