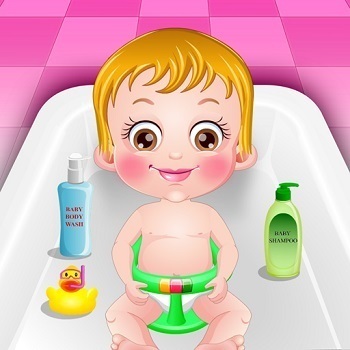 About game «Baby Hazel Skin Care»
As the winter weather approaches, Hazel's skin will require particular attention. She plays outside a lot, either with her parents or with friends. Of course, the cold's effects on the girl's skin are not very favorable. Provide skin care during the cold season and assist her in overcoming this issue.
When she returns from her walk, meets baby Hazel at home. Help the girl shake off the snow from her clothes by using the mouse. After that, don't forget to remind the infant to take off all outerwear so that it can be hung up on a hanger. Put the girl's shoes on a dedicated shelf after taking them off her feet. After that, quickly click the symbol in the upper right corner of the screen to leave Hazel for the restroom. The girl will take care of her skin here. Once inside, assist Hazel in finding warm water. The girl ought to be put in the bath as soon as it is full. The infant enjoys playing with a variety of toys. Serve them while taking a bath for some amusement. Once Hazel has had enough fun, thoroughly wash her in warm water.