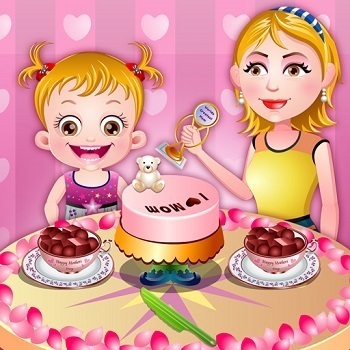 About game «Baby Hazel Mother's Day»
For Mother's Day, Baby Hazel will surprise her mother. You'll aid her in this, along with the child's father. You must to the supermarket, purchase the ingredients for the cake, prepare it, and decorate the space. A game that will not make any player bored.
Everybody (boys and girls) is welcome to play this game. Along with improving pleasant emotions, you can also improve mental agility and decision-making speed. Because of the game's effective graphic design, you will feel the atmosphere throughout, making the levels pass by quickly. Any player, whether a novice or an expert, can try their hand at the game because it is made to appeal to a wide audience. You only need to pay a little attention to the game and play through to the conclusion for your mood to soar above the roof; the outcome is assured! So forward, good friends! Keep in mind that you can quickly get the Baby Hazel Mother's Day excellent program from all the various gadgets and devices on our website for nothing at all. Friends, enjoy and have a great time. Also, invite your friends!