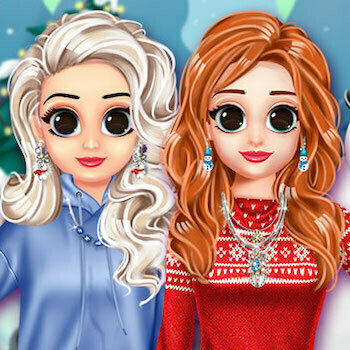 About game «Princess Winter Style»
Winter is the season when staying indoors is not an option; instead, you should go outside and spend time with friends building a snowman or throwing snowballs. The princesses are eager to go for a walk in the woods, but first, they must dress suitably. Their pals will require a stylist for this, and you will fill that role for them. Choose the appropriate attire for each princess that will make them look respectable.
To interact with and change a specific girl's appearance, click LMB on the icon bearing her picture. Pick out certain pieces from the suggested wardrobe when you arrive at the area where the model is waiting so that you produce an attractive ensemble. The princess is on the left, while the tools needed for the transformation are on the right. Find out which combination of the elements will look best on the girl. Create a haircut that highlights the heroine's beauty. After the two princesses have been transformed, go outdoors and build a snowman. Then, using creative means, dress him up.