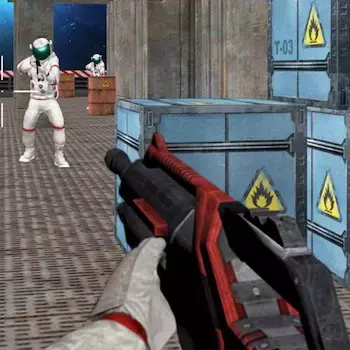 About game «Battle Area»
In this fascinating first-person first-person shooter, attackers are hidden around every corner, and your only defense against their bullets is quick thinking and accuracy. Terrorists keep the city's residents awake by planning daily street shelling in which many individuals lose their lives. Only you and your crew, which is skilled in conducting operations to get rid of particularly dangerous criminals, can put an end to bandits' arbitrary behavior. With a gun in your hands, you'll always have a trustworthy friend. Find the terrorists so you can kill them there and then by navigating the crumbling barriers. The only action you must avoid taking is prematurely disclosing your location.
Engage in thrilling but risky missions. If you aren't precise and quick, the game will end for you just a few seconds after it begins. Even in virtual conflict, there is no space to unwind. Particularly as your weapon begins to reload, which takes a debilitatingly long period, you should attempt to avoid dying.