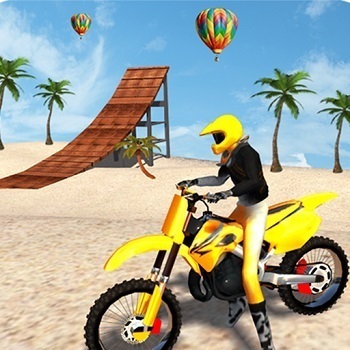 About game «Real Bike Simulator»
The top motorcycle racers fight on sunny beaches surrounded by wooden cottages and palm trees rather than on race grounds. You can participate in this competition right now by performing an aerobatic maneuver. Get ready for breathtaking driving competitions!
You can select a free race and a courier mode in the game. There are two fairly similar maps for the first mode, however, the first is shorter and more centered on the jumps, and the second is considerably larger and lets you ride across the desert hills with ease. Gather bonuses in the form of multicolored rings to raise your game score and race-finishing time. The slowing mode is automatically engaged throughout the jump, ensuring a stunning landing. A sequence of sea spray will greet you if you choose to cross the river, adding to the realism. For the courier mode, there are ten levels. On your motorcycle, you must transport cargo from one location to another. Before you run out of gas, you must finish the mission. These missions are typically pretty simple, but occasionally you need to work really hard!