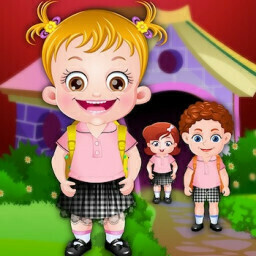 About game «Baby Hazel In Preschool»
When they turn three, young children enroll in a kindergarten, a preschool facility where they spend the entire day until their parents, who have been let off work, pick them up. Most kids enjoy kindergarten because they get to play with other kids and take care of them while learning about the outside world and other things. Baby Hazel's first day of preschool is today. Baby Hazel is in a happy mood and is reluctant to leave. However, baby Hazel does not want to attend school for whatever reason, therefore our mission is to pick up the child and accompany her to kindergarten for one day.
Already awake, the infant needs to use the restroom to wash her hands and brush her teeth. Apply a specific baby cream to the infant after bathing. After taking a shower, hang up the bathrobe to dry, and then put on a freshly laundered outfit and prepared shoes. Now that the baby has started crying, it's time to bring up kindergarten. This calls for us to divert the girl's attention by playing with her.