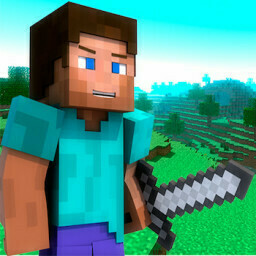 About game «Minecraft Remake»
We are glad to welcome all gamers who consider themselves fans of the Minecraft universe, today you will have a journey into the world of square trees, animals, characters, and everything that can fall into the eye. For adventures, we have prepared for a new version of the game, that is Minecraft Remake, which anyone can join. And if you have not been here yet, then be sure to stop by and find out why this game is so popular.
Maybe you are a new fan of this universe? It's good that the main character was not changed, Steve is with us again and now you will do the same as always, namely, explore, mine, fight and build. In addition, do not forget about complete freedom of action and the world itself. You can choose any point of the given world and there you can build a dwelling for yourself, or build a fortress, from where it will be possible to shoot enemies, and inside to carve the land into a vegetable garden and grow vegetables and fruits for their needs.