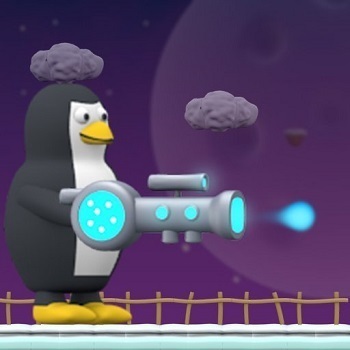 About game «Combat Penguin»
An original battle between a penguin and snowmen awaits you in the online game Combat Penguin. The snowmen somehow came to life and are now attacking the penguin's dwelling. Standing on the roof, he defends his possessions, firing snowballs from a special weapon at uninvited guests. Combat Penguin is an entertaining multiplayer online game that can take you into its world for a long time. Your task is to survive on an ice island and not fall into the water. If you fall into it, evil sharks will immediately attack you and you will die.
To help the snowman lose part of his strength, shoot snowballs at him from the cannon. With a perfect shot from a snow cannon, you can destroy every snowman and prevent them from the house. In order to do this, control the scope and look for any exposed body parts on the snowman that would speed the enemy's demise. Be careful, push your rivals away and try to make them float in the water. Also, watch how the pieces of ice fall off at the edges. With this game, you will have wonderful free time and get a boost of vivacity and fun for the rest of the day. Have fun!