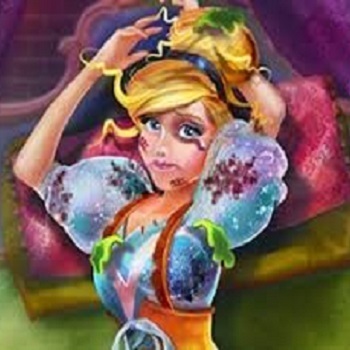 About game «Cinderella in Modernland»
Cinderella's elegant carriage was once more transformed into a pumpkin, her dress was torn and disheveled, and her body was covered with scrapes and sores. Because Cinderella so desperately wants to be beautiful, shine at balls, ride in posh cars, and be appreciated by the prince, please assist her in regaining her former appearance and making her into a beauty. Although the girl did not belong to high society much, she had already adopted. Cinderella should try on several different dresses because they all look well on her, but the cute girl wants to look her best.
Cinderella is lying on a green bed while wearing a dark green skirt and a blue shirt. She has a body covered in green foliage and numerous cuts and sores. The yellow hand indicates using the brush to brush the leaves off the clothing. The princess beams. Then, using a comb, we arrange her golden curls. By the way, the scale at the bottom of the screen calculates how long it will take you to comb the beauty. Cinderella, the lovely and radiant one, please!