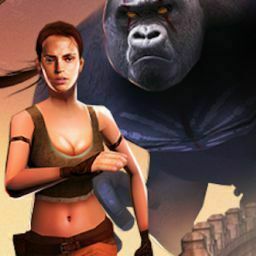 About game «Temple Quest»
Prepare to discover the buried riches of a long-forgotten area in Temple Quest! Although the old pillars appear to be robust, you can feel the ground trembling beneath your feet. Run to save your life, and don't forget to grab whatever in your path.
Every explorer will go to ancient locations in search of coins, diamonds, and other valuables. But bravery alone is insufficient! To dodge traps and other hazards, you need to rapidly stand up again. The objective of this game is rather straightforward, similar to other games in its category. On the endless level, you must keep moving forward and running as far as you can. Do not think that this is just a run! In this game, traps, barriers, and numerous more difficulties are waiting for you. You can use the arrow keys to prevent this. To hop over and beneath things, use the up and down arrow keys, respectively. To switch sides, press the left and right arrows. You'll come across a few coins sprinkled everywhere. Gather as many of them as you can. Spending them in the store will allow you to upgrade four different power-ups.