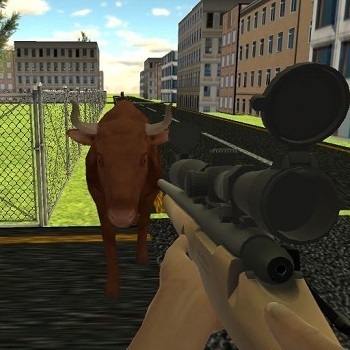 About game «Angry Bull Shooter»
On the eve of the Ensierro celebration, several thousand heads of cattle, mostly bulls, were brought into the municipality; at some point, they will all rush through the streets. This event is greatly anticipated by both visitors and residents, yet something went wrong. One of the monsters convulsed spat, and collapsed. The veterinarian had previously described rabies as a terrible disease, and it was later discovered that the animal had it.
Bullfighting is a classic form of amusement for the Spaniards. But unexpected events frequently occur during its execution, which could have negative consequences. So today's bullfight in a little Spanish village did not end as it should have. Before the first victims arrive, we must immediately take quick action to halt them. You must adopt a positive stance and keep an eye out for bulls. As soon as you spot them, grab your gun and shoot an aiming shot! If you get all your math perfect, you can defend the city from the charging bulls. But keep in mind that the only way to eliminate them is with a precise shot!