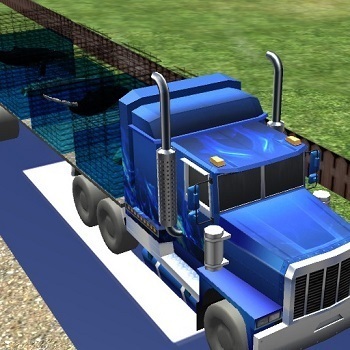 About game «Sea Animal Transport»
Around the world, a number of sizable groups work to rescue animals both on land and in the ocean. Each injured animal is taken away for care and then released back into the wild. Animals that cannot be returned to their habitat are sadly kept in zoos and dolphinariums since it is not always practicable to do so. In our scenario, a specialist firm handles the shipping of marine animals, and you will need to train to become one of these professionals in order to handle the transfer of precious cargo in a brand-new 3D simulator.
Because the creatures have been in little tanks for such a long time and it is unknown how the journey will affect them, it will be important to move the containers with the animals within them rapidly yet cautiously. Prepare the tractor for loading when you arrive at the seaport, then switch on the navigator and depart following the suggested path. The journey ahead won't be simple; the route will take you both inside and outside of cities, and you may occasionally need to navigate ups and downs, abrupt turns, and even retrace your steps.