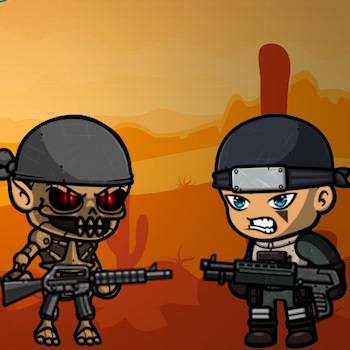 About game «Desert Shooter»
The soldiers of the wide wilderness engaged in violent combat. Each combatant uses a separate set of weapons and has special skills. A warrior with a rifle is extremely persistent but sluggish, a female sniper is incredibly mobile but fragile, and a submachine gunner has average attributes across the board. On the map, stronger weaponry can occasionally be found. No difference in what category your character belongs to, as soon as you see this, take advantage of the situation without delay.
Desert Shooter is a fun tactical video game that aids in training for precision and focus. This virtual recreation has a multiplayer option. In other words, you can choose between a tournament with friends or a single game here. Due to the fact that each of the three main characters has a unique weapon, the player must choose one of them. To move through an assault course, you must destroy anything that enters your field of vision. Each level comes with additional bonuses, outfits, and equipment for a quick finish. The objective is to successfully complete each strength test.