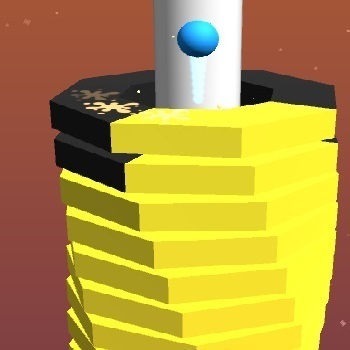 About game «StackBall.io»
The primary elements of a new arcade puzzle game that we offer to play for fans of simple yet fascinating games include a large long pole, rings, a ball, and black spots put on it. By the way, we didn't mention anything about how the game's vivid colors appeal to the eye and encourage you to try to complete a level over and over again when we praised it.
You can visit a three-dimensional universe and help a round crazy ball fall from the top of a tall column in the brand-new game StackBall.io. There will be circular components surrounding the column that come in various hues. Additionally, your bubble will be a particular color. You will need to make your taps on the screen bounce and strike specific areas of the elements hard. Remember that you should only perform this in the same shade locations. By doing so, you can get rid of them and watch the bubble slowly deflate. To score as many points as you can in this game is the main goal. Keep in mind that you can play this great program from all conceivable gadgets and devices on our website for nothing at all!