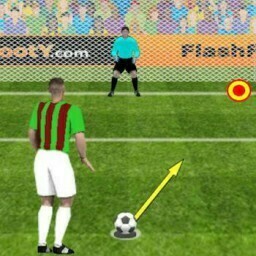 About game «Penalty Shooters 2»
The Penalty Shooters 2 is returning with new leagues, new teams, and more excitement. As you advance through the levels of your league, pick your preferred players and then try to win every game. Direct the ball where you want to kick it to get more points or use your goalie skills to keep the ball out of the net. Try to win the competition in this spectacular follow-up to one of the most well-known online soccer games ever. Pick a league, then attempt to coach your group to victory on the playing field.
In this thrilling soccer match, can you score more goals than the other team? North America, Brazil, Argentina, the global team, England, Italy, Mexico, the Netherlands, Spain, and France. All of this can be chosen before the competition begins, in which you take the role of a football player who must defeat each team by converting penalties. To deflect the opponent's blow, punch the goalkeeper before changing into the goalkeeper yourself. Win based on the ratio of goals scored to goals allowed. Try it out!