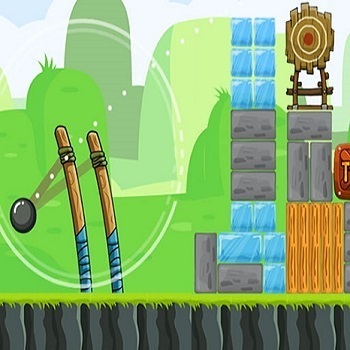 About game «Right Shot»
Before you is a wonderfully engaging arcade game that will keep you absorbed for a considerable time, the rules of the game are simple: you must hit the target precisely with the core, which is launched by a sizable slingshot. And don't be fooled by the first tests' apparent simplicity; the subsequent ones will require far more effort than you imagine.
You can only fire a certain amount of cores for each stage in order to take out all of the crucial game components. Try to aim at the unstable blocks instead of the required targets to absolutely ruin the building. Crates of explosives are typically seen on the playing surface. This is an excellent opportunity to demolish the building and observe its stunning effects. You can destroy the selected targets using these techniques with the fewest shots possible. Due to the game's incredible application of physics, you will find the destruction of such structures to be incredibly amusing. It is advisable to focus on the games since only this way will you be able to go on and discover what challenges you will encounter.