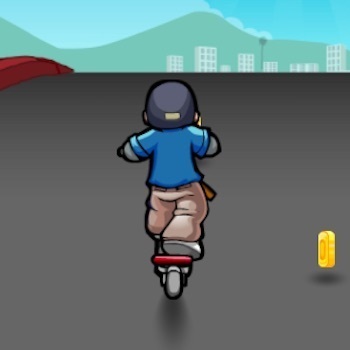 About game «Drift Scooter - Infinite»
Online games that involve drifting are amazing and exciting. The dangerous scenarios that occur on the track every minute provide you the opportunity to feel more adrenaline, excitement, and buzz. Frenetic speeds are possible in cars, but if that's not fast enough for you, turn on the sophisticated turbo engine. Boys' favorite toys are cars, and boys' online racing games are probably the first ones they play on the computer. The creators are continually adding new racing games to the already substantial part because they are aware that this is their addiction. Three close buddies enjoy riding their scooters quickly. They organize races every day, in whatever condition, and enjoy competing to see who is the greatest.
The men decided to test their scooter-driving skills and reaction times in the game Drift Scooter - Infinite. It was discovered that a long-repaired city highway had been abandoned. It was shut down and work on repairs had already begun when the city council ran out of funds. On the road, there were still barriers, shields, and traffic cones. This is the location of your race. Select a rider, then assist him in traveling as far as possible without hitting any obstacles.