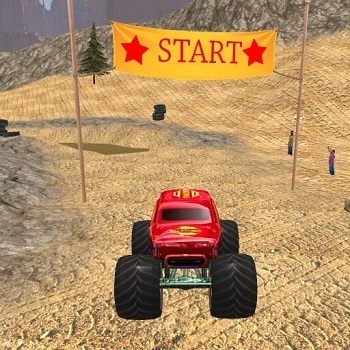 About game «Monster Truck Rally»
Play the captivating game Monster Truck Rally and control enormous vehicles. On each of the numerous different monster truck war tracks, contend with other players to win. These monstrous trucks aim to destroy you, so this is no ordinary auto race! Do you possess the skills of a seasoned driver? Control your vehicle as best you can to win each race you enter!
In the engrossing game Monster Truck Rally, you can pilot a variety of monster trucks and compete against other players on a variety of racetracks. Numerous drivers adore monster trucks because of their propensity for destruction. It's amazing to watch these creatures in action! Your objective in this game is to take charge of your monster truck and compete in different events to win first place. There are eight distinct tracks, each located in a different nation. Prepare to feel the thrill of racing against other players in this thrilling game, which takes place everywhere from the deserts of the US to the rainforests of Brazil. With a successful rally finish, you can unlock additional trucks and make money.