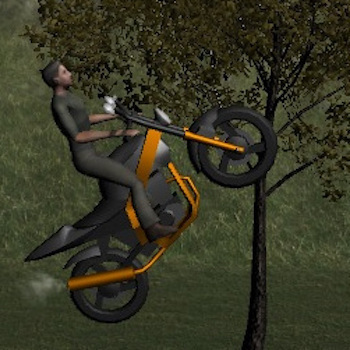 About game «Mountain Bike Rider»
Play the game name for free online. Today, we participate in a sports bike race in the Highlands. You participate in Mountain Bike Rider. Once you've decided on a bike model, head to the starting line. You will hurriedly advance, picking up speed as you turn the throttle stick in response to the signal. The road you will go through has a fairly challenging topography. To get over perilous stretches of the road and come in first, you must pull off a variety of maneuvers quickly. You will receive points for that purpose, and you may use them to buy a new motorcycle model. Play this fantastic game on a variety of gadgets.
You can try riding a bicycle in the engaging simulator Mountain Bike Rider. You will travel over challenging terrain, sometimes slowing down to avoid falling and having to start the level over. There are 15 levels in all. Additionally, there is a "free ride" mode where you can amass cash or diamonds. You can buy outfits for your navigator with them. A new bike is an additional option. On a single PC, two players can also play the game.