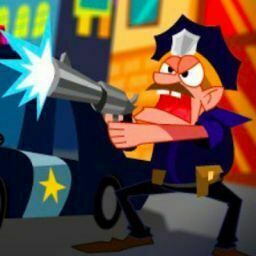 About game «Catch The Thief»
Robbery games are a unique opportunity to visit two worlds at once. In the criminal, where you have to look for and carefully extract a variety of treasures and artifacts. We are unaware of the majority of the police's work, but we can tell how busy they are by the amount of crime we see on the streets. You will be in a city where thieves formerly felt at ease when playing the video game Catch the Thief. Because the local police made a deal with the bandits, they were able to rob small traders and break into private homes and apartments. However, a new police officer suddenly appeared. He came from another city, where there were tales that he had brought absolute order. Because of the newcomer's reputation for being implacable, the thieves became concerned.
Our hero made the decision to profit from their commotion and errors as they started to act foolishly. Help him apprehend and freeze every thief. Show us your best abilities and emerge as the game's top player! Ready to start playing? Then proceed!