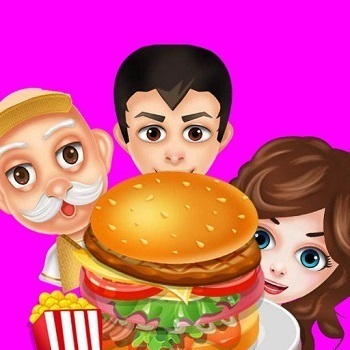 About game «Burger Cooking Food Shop»
Do you miss eating on the streets? Love playing culinary games with savory fast-food recipes? You have been served wonderful and delectable kid-sized hamburgers by the burger cook. Everyone enjoys tasty food, especially in chef-cooking games.
Play the free version of Burger Cooking Food Shop online. You have the chance to start a mobile restaurant in this game and sell hamburgers there. Thankfully, there aren't any administrative snags in this virtual environment. Simply enter the Burger Cooking Food Shop and you will be the proprietor of your business. Everything after that introduction is up to you. If you can quickly and effectively serve customers, you will consistently make money, which you can then use to increase the number of products you offer. With our assistance, you should serve the first handful of clients before playing by yourself. Be careful; if you load a sandwich with the incorrect filling, the customer will not buy it. Play this game on a variety of devices. Have fun cooking the most delicious burgers!