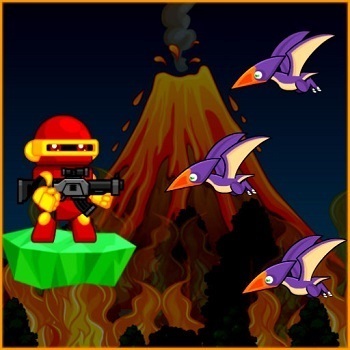 About game «Dragon Shooter»
Dragon Shooter is an engaging game where you have to shoot flying dinosaurs. The issue is that despite spending a lot of time searching for a planet that would be perfect for Earthlings to relocate to, our hero has just recently learned about a truly amazing possibility. This planet, which strangely resembles our Jurassic Earth, has dinosaurs. They dislike the new guest that wants to seize their lands, so they are ready to assault. These flying velociraptors are highly dangerous, and their sharp beaks can quickly pierce human armor. Help our hero deal with them by doing so. Try to hit the shots perfectly on target while staying as far away from these little but hazardous dinosaurs as you can.
Due to its simple gameplay and wonderful graphics, Dragon Shooter will provide you with a fantastic dragon games experience. It's easy to play this shooting arcade game. Do you remember playing Galaga Wars or Dragon Spirits? You can now experience it on your phone anytime and wherever you choose! Have fun and enjoy the game!