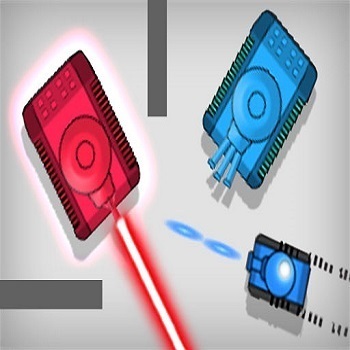 About game «Tank Mayhem»
A fantastic tank game where you can shoot other players at your leisure. The benefit is having the option to play with a friend as well as by yourself. A mini-tank, the game's strongest perk, will help you dispatch adversaries quickly. Don't forget to gather rewards because doing so will help you improve the tank you're riding and increase your skills. Pay close attention to the Drone Mini Tank bonus, which is the most potent and beneficial one. You may easily defeat your opponent by using it. However, you shouldn't become fixated on it alone because other advantages also have a significant impact on your ability to rule the battlefield.
Game management is simple. Battles can be fought on a computer using a mouse or a touchscreen device. To begin the game, click the word Play. By clicking on one or two in the window that appears, choose the number of players. The W, A, S, and D keys are used to drive the blue tank in different directions, and the V key fires the shot. You'll need the arrow keys on your keyboard to maneuver the red tank.