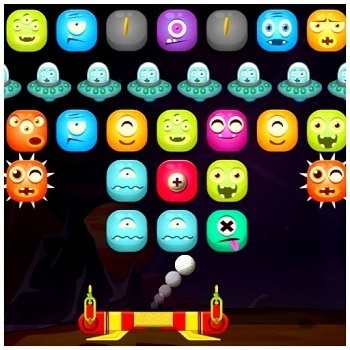 About game «Aleinoid»
In a not-too-distant era, mankind has mastered gravity and is able to safely traverse the immensity of the cosmos. However, as is always the situation, with new opportunities come new difficulties and dangers: at the moment, malevolent extraterrestrials rule our planet! Then, one "beautiful" day, the aliens decided to engage in combat with humanity. Luckily, the assessment accordingly on the planet third from the Sun found the opponents. As the greatest aviator and shooter, you must eliminate them. Your protagonist will think of the battle as a typical game of Arkanoid. Control the stage that will be at the bottom of the screen to strike the white ball. Let him demolish the colorful blocks that are your enemies! Because of your exceptionally quick reactions and agility, you must defeat them all.
This game has 24 entertaining levels. To complete the level, eliminate every alien on the screen. The ball's orientation will be determined by the angle at which it makes contact with the paddle. Save our planet!