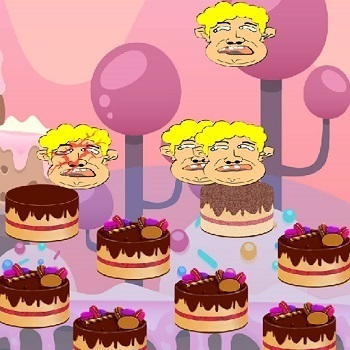 About game «Cake Eaters»
All cake enthusiasts will like the engaging shooting game for youngsters called Cake Eaters. You'll encounter true eaters there who consume everything without hesitation. Shooting at consumers is necessary to keep them away from freshly baked goods. You will receive points and observe the cake-eating person's face change to an amusing grimace with each cake that is consumed. The devourers speed up as you play for longer. Be extremely careful in this aspect! Save every cake you can.
Everyone like cakes, so don't listen to the person who claims otherwise; chances are, he hasn't had a cake he would enjoy. However, you have to deal with actual irate savory cake eaters in the program Cake Eaters. They consume the food in an unfathomable amount and swiftly. You must save freshly prepared food from dangerous monsters as their interference with the confectionary plant is about to begin. Angry, obese, and wicked heads are already wandering around; shell them to prevent them from accessing the treats, then start eliminating them.